Full-Service Landscape Renovation, Landscaping Design and Outdoor Construction Company In El Paso, Texas
We Serve Both Commercial & Residential Properties. 
Rated #1 Landscape Design Company In El Paso, TX
Landscape Design In El Paso, TX
Out of all the companies, we are the best for your commercial and backyard landscaping in El Paso, TX. We have built a reputation of quality and customer satisfaction. This is because we give our full attention to our customers so that we can fully grasp your needs and make them come to life. We have the ability of completely transform your backyard to paradise. Landscaping is not only important in making a home more beautiful, but its also important for businesses to maintain impressive and professional landscaping as well.
 Customers will more likely be drawn to a good-looking and attractive exterior with well kept grass, flowers and trees than an overgrown, ignored yard. That is exactly why we offer landscape design in El Paso, TX. We are known for developing outdoor living spaces and curb appeal. When you have found the house of your dreams and you are ready to frame it with the artistry that landscaping can bring, call us for all your landscape construction and design needs.
There are several reasons to choose a landscaping company like ours to create a gorgeous exterior for your home. One of the biggest reasons is that our team is made up of highly trained professional architects and outdoor designers. Our experts are qualified to present you with options to meet your needs. We can help you choose materials, plants, and other elements to really bring out the look and ambiance that you have always dreamt of achieving for your home.
I had a wonderful experience working with this landscape contractor. The team was professional, friendly, and provided high-quality service. I am highly satisfied with the final result.
Great quality and on time every time I absolutely recommend El Paso Landscaping! I had a deadline that we needed to get a project complete and they were able to do it with great attention to detail. They were supper communicate throughout the whole project and raised and brought up any concerns. Thank you!
I was very impressed with the quality of work they provided. They were able to create a beautiful landscape design that perfectly matched my vision. I would definitely recommend El Paso Landscaping to friends and family!
I was amazed by the transformation of my yard. They exceeded my expectations. I will definitely be using their landscaping services again in the future!
El Paso Landscaping improved the appearance of our backyard from 0 to 10. What was once an overgrown mess is now a lovely place to unwind in the spring and summer. They built a new fence, patio, garden borders, sod, and a pathway along the center of the property. The staff were patient and understanding, and the work was completed fast and thoroughly. I would strongly suggest them for any landscaping need. Thank you very much, El Paso Landscaping.
Build The Perfect Outdoor Landscape Design For Your Home!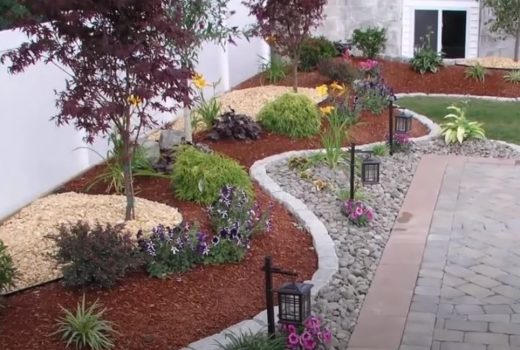 TRUSTED - QUALITY - PRICELESS
If you're not sure what you're looking for in a brand new custom deck, than give us a call. We can help you achieve that beautiful outdoor experience that comes with adding a new outdoor patio or deck to your home!
Our Landscaping Services in El Paso, TX
The services that we provide for our customers cover all the landscaping bases. From huge commercial landscape renovations to a new backyard design, we do it all! We can help you from start to finish with your next front or backyard landscaping project, and bring your ideas to life. Our expertise allows us to also provide artificial grass installation, tree transplanting, landscape renovations, hardscaping, and outdoor structures. Our team also includes skilled masonry workers who can create walkways, seating, and steps to give your outdoor spaces a unique look.
We are the ones that you call for all things landscaping design. Our designers and landscapers work together to create the atmosphere that you crave for your outdoor living spaces. We understand the elements of plant form and texture and how they work to change the look and feel of your patio or garden area. Our team of professional landscape architects will draw up 3D renditions of your landscape. So you can see what you get before we start building it!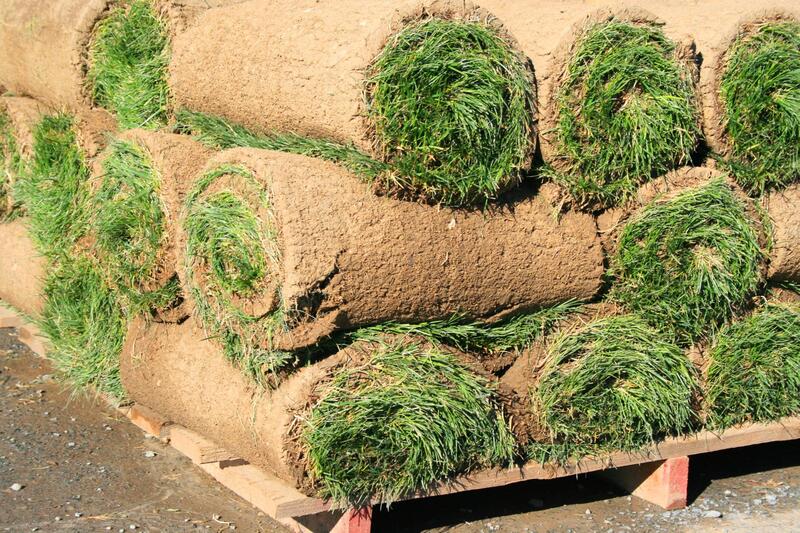 Sod & Artificial Grass Installation
Sometimes due to weather, new construction, dryness, or other reasons, the grass in your yard is not quite up to par with the grass in your imagination. This is where the installation of sod and artificial grasses can really make a difference. Even patchy yards or yards with areas of bare earth can benefit from sod. We can help you decide if sod or artificial grass will be right for your unique landscape and go through all the pros and cons with you so that you can make an educated choice.
Decorative Patios & Walkways
Something else that we are proud to provide is the installation of decorative patios and walkways. We have access to a wide variety of hardscape materials and have ideas for many different projects to enhance the beauty of your yard. We are certified in landscape construction and can create stamped concrete patios and walkways that compliment your existing terrain, or incorporate them into a new design.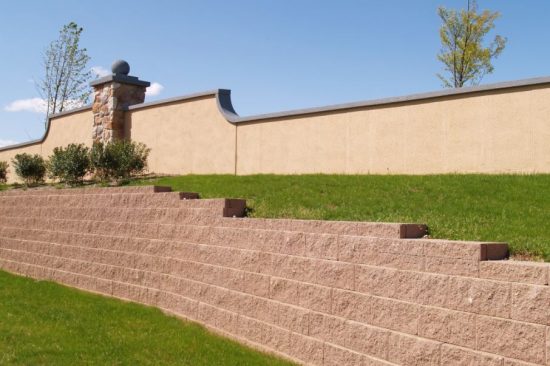 Our landscape architects can help you build the perfect retaining wall for your landscape. Retaining walls aren't only about aesthetics; they also serve an important function of safeguarding your home's structural integrity. A retaining wall will keep your house safer if the soil is washing away from it and uncovering more of its foundation. Speak with one of our local landscape designers to see if a retaining wall will be a good fit for your home.
Irrigation & Sprinklers Services
El Paso Landscaping and Design is also certified to install and repair several different types and brands of sprinklers and irrigation systems. We can even help you design a system that works to keep your landscape looking lush and beautiful throughout the changing seasons. If you already have a sprinkler system, allow us to take a look and make sue that you are achieving optimal water usage. And of course, call us if your irrigation system is ever in need of any repair.
Tree & Shrub Installation
When you are choosing elements to incorporate in your landscape, it is imperative that the species and types of trees and shrubs that you choose are good matches for the other elements in your yard or outdoor living space. We can provide you with education of how to best maintain the trees and shrubs in your landscape, or we can do the dirty work for you! Just ask about our tree and shrub maintenance services like pruning and trimming.
#1 Trusted Landscape Designer In El Paso, TX
Beautiful OutDoor Construction By Professional Landscape Architects
Are you looking for a reputable Landscaping company in El Paso? Look no further! We're the number one recommended landscape designers to help bring your landscape to life! You can count on us to transform your outdoor space into a backyard paradise.
A great way to add an earthy element to any landscape is to incorporate rock and stone masonry in your design. Our certified masons can create elements such as steps, walls, seating and other focal points to bring balance to your landscaping and to bring out certain textures and features.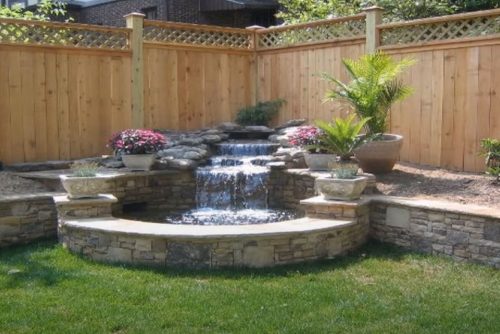 Our landscape architects will create innovative hardscaping solutions to any structural or aesthetic need you have at your house or business. All of our personnel are trained and knowledgeable about any hardscape design and installation. Hardscape landscaping is becoming increasingly popular among the local residents since it's a beautiful addition to your home and business.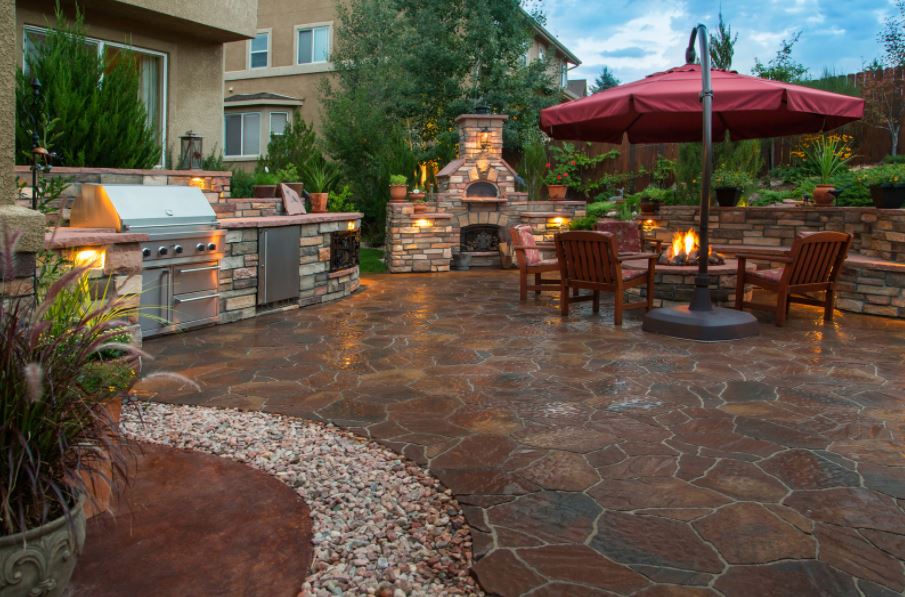 We can construct a custom-designed, fully equipped outdoor kitchen that complements your home's appearance as a whole. Our goal is to offer our clients quality outdoor kitchen construction through experience and knowledge. We offer a variety of different types and styles of outdoor kitchens, fireplaces, and fire pits.
A pergola is a fantastic method to spend quality time with your friends and family while also taking in the beauty of your home's outdoor spaces. Pergolas are fashionable and help shade your outdoor spaces to enjoy nature. It's also tough to avoid the heat of El Paso while displaying decorations or greenery. Arbors and pergolas provide the answers for all of these issues.
Decks are a great way to show off your creativity and personality. They come in all shapes, sizes, and styles. This way you can find one that suits your needs. All of our decks are built with high-quality materials and professional contractors. Whether you're searching for ideas for a new deck built or a replacement, our deck builders can help you bring your outdoor vision to life.

We have a team of only committed deck and covered patio construction experts who strive for nothing less than 100% client happiness. We'll collaborate with you to design the ideal pergola, or solid patio cover according to your needs. When you want it installed in your garden, our skilled patio builders will build it exactly how you want it. To top it all off, we offer the best warranties in the industry to ensure that all outdoor structures we construct last a long time.
One of the most popular renovations for landscape is to convert an old, outdated backyard into a more modern one. These changes will help increase the curb appeal and aesthetics of the property. Every time you upgrade your landscape, you can see it as an investment. Our landscapers can help transform your yard into a beautiful oasis that will help increase your property value. With our renovation services, you can feel confident about transforming your landscape into something fresh and exciting.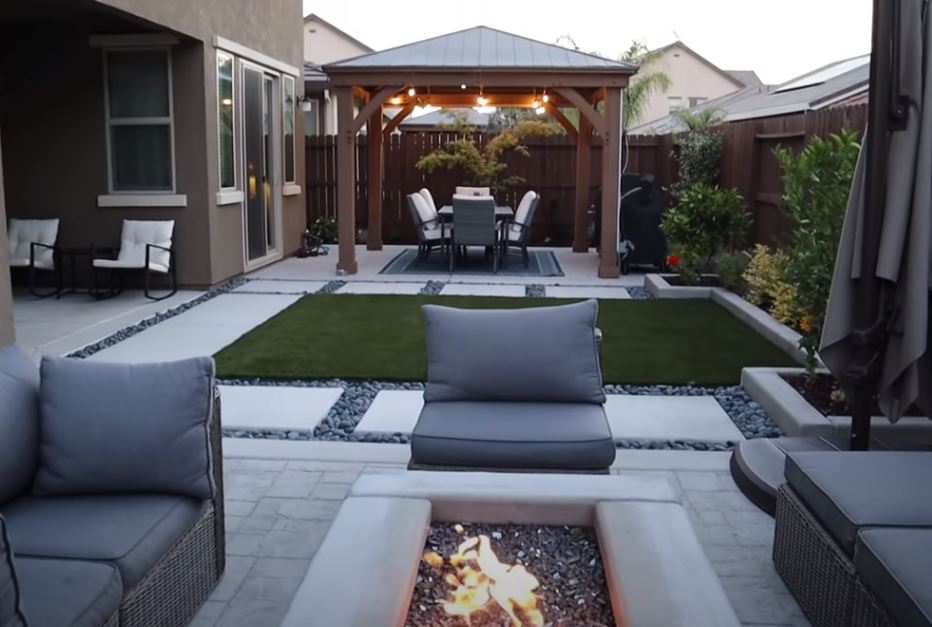 What To Expect When You Hire El Paso Landscaping
If you're looking to redesign your backyard, consider hiring a landscape designer. Our professionals can turn any type of yard into an outdoor oasis with their expertise in landscaping and outdoor construction. A qualified professional will be able to create the perfect environment for both fun and relaxation that suits all types of families or individuals living there. They'll also have access to materials not available at home improvement stores, like natural stone pavers or lush topsoil from nearby farms that they can use on-site without having it delivered; this helps save time as well as money spent on gas! You can't go wrong with our landscape construction services, as we are known to be one of the top landscaping companies in El Paso, TX. 
Frequently Asked Questions
What does a landscape design cost?
It can be hard to find the perfect landscape designer for your project. Depending on what you need, designers might charge a lot more than others! The national average cost of hiring a residential landscaper is $2,600-$4,600 and some will even charge upwards from that depending on their previous experience or specialization in certain areas.
How do I plan a landscape layout?
It takes a lot of creativity to create the perfect landscape design in El Paso, TX. First, you need an outline! Create your broad overview by drawing out existing features like streams and rocks in addition to any buildings or trees on site. You'll also want ground cover if it's not included already in the design! Once these elements are accounted for, add new landscaping designs with flower beds and bushes that will be sure to make people stop what they're doing so they can appreciate all your hard work firsthand.
How much should I budget for backyard landscaping?
Backyard landscaping is one of the few projects that can start small and upgrade as your budget allows. Prices vary from $3,000 to $250,000 depending on the size, materials used, complexity of the design but a beautiful backyard landscape will always be worth it!
Is landscaping and lawn care the same?
A lawn care company will take the time to mow, fertilize, replace sod whenever needed or desired. Landscaping is more than just a simple landscaper coming by and planting flowers in your garden. Landscaping is about transforming an outdoor space through planting shrubs and trees that match your style preference or outdoor structures like patios, outdoor kitchens, decks, pergolas for entertaining friends outdoors during warm months of the year!
Is landscape design worth the money?
Homeowners in the U.S., who are looking to maximize their return on investment, should consider investing a little more time and money into landscaping because studies show that homes with well-done gardens can be worth up to 10% more than those without any landscaping at all.
We are ready to provide you with your free design consultation with our highly qualified professional landscape architects. When you call us, you are calling the number one landscaping company in El Paso, Tx. This means that you will receive the best customer service. Reach out to us by phone or email so that we can get started on creating the curb appeal that your home deserves.
We service both residents and local companies in El Paso, TX.